2019
Letter A

(film/sound)
After the Cloud, came the Fog. In the advent of a new computational metaphor, a mythical figure from within the historic Luddite revolts is excavated and re-actioned. Two centuries after their reckoning letter, Eliza Ludd is hailed the Metaphor Breaker of our New Dark Age.
Department of Extension

(event) at Kingston School of Art
The Department of Extension is an unreal school. Its students—if only temporarily—enrol to imagine 'otherwise'. Under the guise of a school open day, the Department pools together prospective students to unfold discussion on the school's (un)realities.
More info:
departmentofextension.com
Nouns of Assembly
(research)
A new blueprint-lexicon for learning and collectivity is assembled through permutational 'learning scenarios'. Nouns of Assembly aliases as brief, menu, buzzword, symposia, and generative research methodology.
More info:
nounsofassembly.com
2018
The School of Being
(text) for Intern Mag
Fictional short story, co-written with Alternative Art School.
"Here, participants create work solely through their dictation of thought. Elements of composition have grown beyond variables of colour, contrast or proportion. A participant's voice is now their algorithm: intonation, stress, rhythm, and pause all become tools of the palette. A stutter can add patterns of repetition, stressed syllables to help elongate length, while volume may extrude or contract a being's depth.
Multilingualism favours one's range, where a participant's ability to reference, extract, unite and juxtapose secondary language immediately creates nuance. Lost scripts can be revived into new environments, and self-study of etymology is highly encouraged."
Read full text:
The School of Being
(Illustration by Jo Yeh)
Made in Dschermany
(exhibition) with
Slavs and Tatars
Exhibition identity & production
"Made in Dschermany extends Slavs and Tatars' artistic practice into German orientalism, philology and the country's complex relationship with Islam, through the perspective of four letters: DSCH. As keen observers of epiphenomena—from monobrows to mistranslations—at the Albertinum's Kunsthalle im Lipsiusbau, the artists shed light on the little-known history of Germany's relationship with Islam, at a time when issues of faith and identity are increasingly instrumentalized against that very history."
Wripped Scripped
(book) with
Slavs and Tatars
Design assistance with Stan de Natris.
Published by Hatje Cantz.
"Wripped Scripped continues the collective's investigation of alphabets as an equally political and affective platform. While the roll-out of new alphabets has often accompanied the rise and fall of empires, the artists attempt to liberate not so much peoples and nations but rather the sounds and letters that make up langauge."
More info:
slavsandtatars.com
Safar 1388
(artwork) with
Slavs and Tatars
Digital print on PVC, 24 × 35 cm. Installation view at École des Beaux-Arts, Paris.
The Alphabet (Uighur)
(artwork) with
Slavs and Tatars
Screenprint on mulberry paper, 31 × 43.5 cm, edition of 15 (+5AP), numbered, commissioned by Walther König.
2017
Topical Tales

(event) at Kingston School of Art
A one day lecture-workshop in collaboration with research platform
ACED
and the Royal College of Art. The event engaged with post-truth politics and the blurring of fact and fiction within design and journalistic practices. Speakers included
Mould Map
,
Daniel Nørregaard
, and
ACED
.
Spatial design referenced news sandwich boards through the fastening of programmes and intersecting grids that framed critical quotes. The workshop then employed rapid digital image production, responding to current affairs in a collective online collage. News of the day created a visual toolkit and
topicaltales.eu
becames its sandbox.
Alternative Art School
(research) with Joe Moreno, Emma Teasdale, and Sheona Turnbull
Pedagogic research project, initiated by Kingston School of Art lecturer Dr Cathy Gale and adopted by myself and several other design students.
The project offered space within the institutional Graphic Design programme to unpack and toy with issues of art education and design practice through student-led symposia and pedagogic experiments.
Additional publication design for its compiled research. Read:
Alternative Art School
(PDF)
States of Change

(exhibition) with Sheona Turnbull
Exhibition identity and copywriting for a BA Graphic Design show. States of Change documented recent encounters with London and Berlin through an assembly of printed matter, photography and moving image.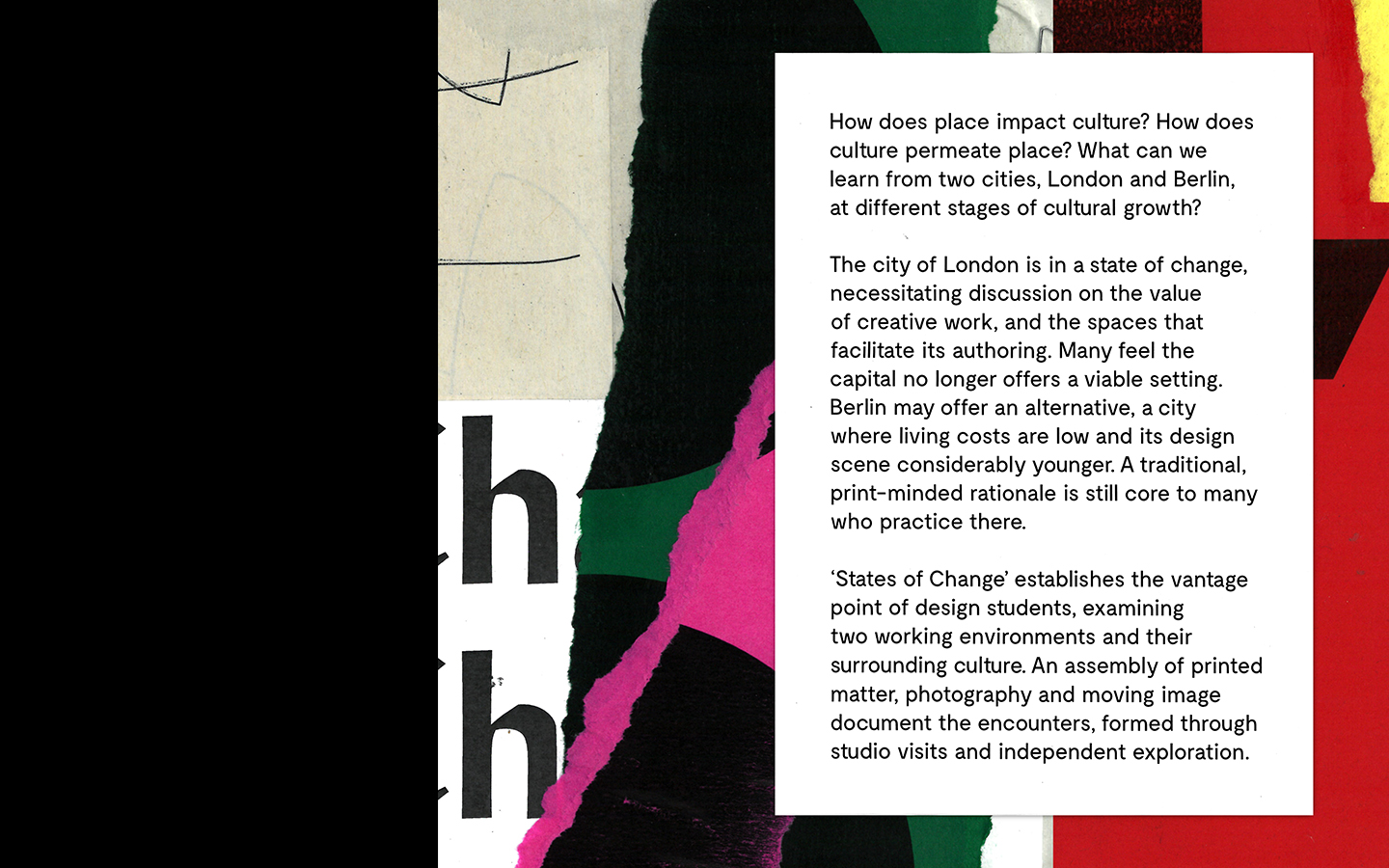 Promotional material reflected the textural layering of Berlin fly-postering through a motif of typographic forms and colour extracted from material during a visit. An edition of beer mats was created for use as invites through a process that echoed the print-minded rationale still prevalent across Berlin.
During the exhibition, a workshop was co-ordinated as a live exercise in the show's branding. Participants could select from visual tests and identity materials to construct an ephermeral commentary of the event. The canvas was cut, collated and bound into an A2 book. Textural qualities of rips and layering became a tactile account of the audience's presence that evening.